Rauscher Farm is approximately 62 acres of open fields and woodlands with frontage on Clamshell Pond. The farm is located at 29 Clamshell Road off of Wilson Street in the area of Clinton known as The Acre. For generations the property was operated as a family farm and remained one of the last large open spaces in our compact town.
Click the link below for a
Printable Rauscher Farm Brochure and Map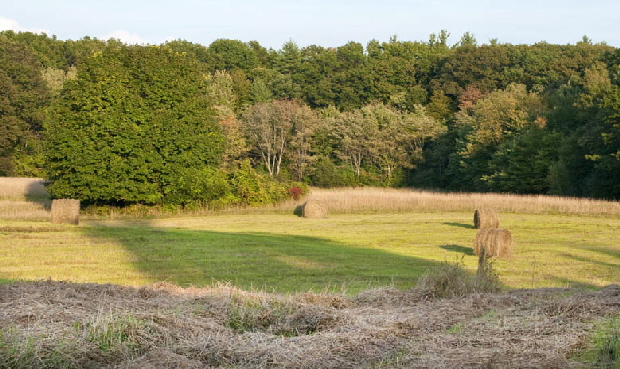 The Purchase of Rauscher Farm
In 2006 Rauscher Farm was scheduled to become a large residential development. How it came to be bought by the people of Clinton as open space is a story that belongs to the many people who gave generously of their time and talents to debate with their fellow Clintonians why preserving Rauscher Farm as open space forever was a much better option for the people of Clinton in both the short and the long term. Here is the brief history of the purchase of Rauscher Farm on June 30, 2008.
March 2006:

A large development company signed a purchase-and-sale agreement with the owner of Rauscher Farm.

June 2006:

At the annual Town Meeting, Clinton voters voted to exercise the town's right to buy the property and authorized the town to put down a deposit on Rauscher Farm.

June 2007:

At a packed annual Town meeting, Clinton voters overwhelmingly passed a warrant article to buy a bond to buy Rauscher Farm. Ratification of this vote required a Special Town Election.

September, 12, 2007:

Special Town Election: Clinton voters overwhelmingly passed a ballot question to buy a bond to purchase Rauscher Farm.

June 30, 2008:

The Inhabitants of the Town of Clinton (so described on the Deed) purchased Rauscher Farm.
Since its purchase, nature programs and maintenance on Rauscher Farm have been supported by donations, grants, and fundraising activities.